"Do not be afraid, little flock, for it is your Father's good pleasure to give you the kingdom.  Sell your possessions, and give alms. Make purses for yourselves that do not wear out, an unfailing treasure in heaven, where no thief comes near and no moth destroys. For where your treasure is, there your heart will be also." (Luke 12:32-34)
Hi there! Welcome. This blog is here as a resource for those who are interested in minimalism and the minimalist lifestyle from a Christian perspective. My hope is that the Holy Spirit will use the words in this blog to inspire others to think differently about what is most important in life.
My husband Will and I started our Christian minimalism journey just this week, and I'm already noticing how the Spirit is using minimalism to re-align my mindset about material possessions and how God calls us to function in the world. I started small—my husband Will is participating in the Minimalism Game, and although I wanted to do the minimalizing of my own stuff a little bit differently (gradually working on each area of the house) I decided to start with him to get the ball rolling.
In the Minimalism Game ( https://www.theminimalists.com/game/ ), players are challenged to remove/get rid of/donate unnecessary material possessions for 30 days, and to progressively remove more things each day. So day one, one thing gets removed, day two, two things get removed, and so on. So by day 30, the person playing is getting rid of 30 things that day alone, and has gotten rid of 465 things over the course of the 30 days.
So anyway, Will was on day two of the Minimalism Game, and since I hadn't yet started on my closet (the first area I wanted to work on minimizing), I decided to remove two things in solidarity with him. So I grabbed two hoodies out of the closet that I rarely wear anymore and put them in the donation bag Will had started to put things in.
About 20 minutes after I did this, I started second-guessing myself. What if one of those hoodies was more useful than I originally thought? What if I missed it and needed to wear it in the future? What if I was never able to find a hoodie quite like that again? What if, what if, what if. I got lost in a sea of what-ifs.
So, I walked back over to the donation bag, pulled out that one hoodie, and hid it under a pile of laundry I was in the process of folding. Yes, you read that correctly. I took it out of the donation bag and hid it in a pile of laundry that I myself was folding. I was literally trying to hide this hoodie from myself. Which I know makes no logical sense whatsoever, but in that moment I was terrified of getting rid of something I could need at some point and would possibly miss, so I tried to hide my attachment to this thing under a pile of laundry.
I am happy to say that it only took a few minutes after doing this to come to my senses, and I took the hoodie out and put it back in the donation bag.
As I reflected on what happened after the fact, I realized that my crazy behavior had nothing to do with the hoodie. I was trying to hide from myself. Or, more specifically, I was trying to hide my attachment to material possessions from myself. It's not a pretty side of me– so I wanted to hide it from myself rather than work on it.
But God has something else in mind, and taught me an important lesson through this experience. If hiding the hoodie taught me anything, it's that my attachment to stuff is WAY more ingrained in me than I originally thought, and re-setting how I function will be much harder than I anticipated.
The good news is, I know that God's got my back in this. People have been dealing with an attachment to the wrong things ever since Jesus' time, and probably longer than that. In Luke 12, Jesus tells the folks in his time, and us, that worrying about and focusing on clothing, food, and other material goods is not good for us. Instead, Jesus reminds us that God will provide all that we need, and to put our focus and heart on those things that can't spoil or get stolen—our relationship with Jesus being one of those things.
That, for me, is the core of Christian minimalism. Trusting God to provide, and (with God's constant reminders and help!) working towards focusing my heart on the treasure that matters—God, family, friends, vocation, self-care, and care for others.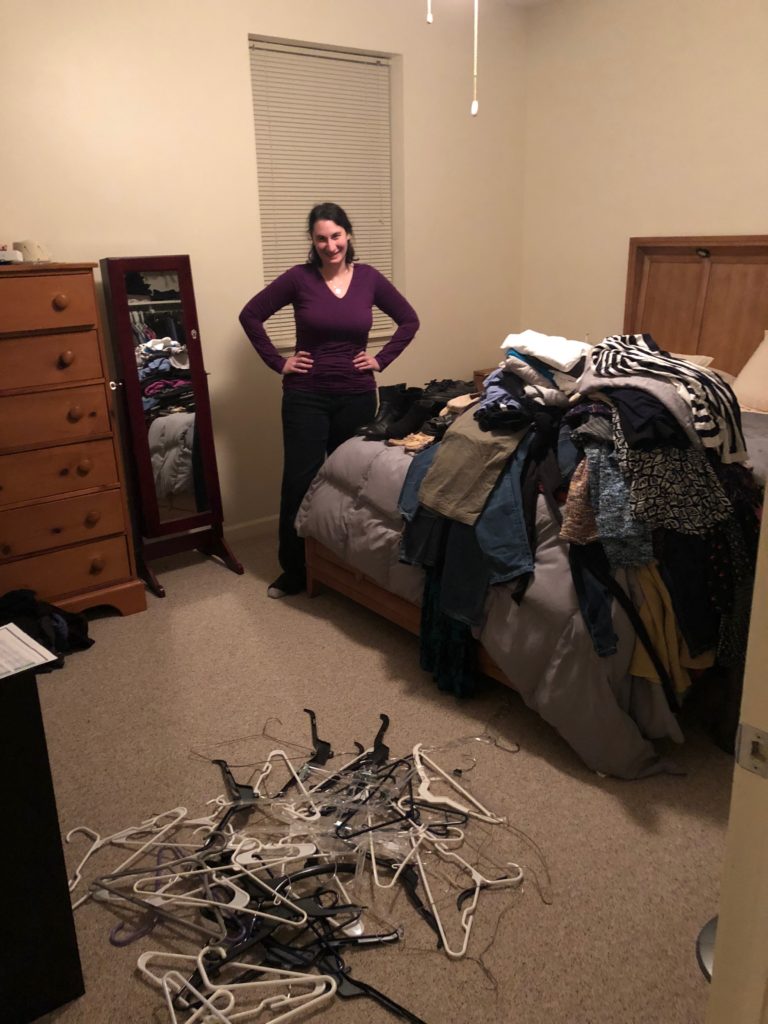 A few days after the hoodie debacle, I tackled my closet and got about 2/3 of the way done with minimizing my wardrobe. Will took the photo above to document how many clothes I was donating out of my own closet– and I wasn't even done yet. When all of this stuff was in my closet, it didn't look like I owned that much. But when I pared down my wardrobe and started piling up the clothes to donate, OH MY GOSH I owned a lot.
Donating the clothes I don't use anymore means that they have a second life and others can use them. And donating these clothes means that I'm one step closer to re-aligning my focus on what really matters rather than continuing to mindlessly accumulate stuff.
How is God inspiring you to re-align your own focus on the things that matter most?