In 2018, I participated in a year of no shopping. It was an eye-opening experience, and it taught me a lot about consumption, the use of our God-given resources, and needs vs. wants. After that year, I did a less official follow-up year of no shopping, with the same rules, in 2019.
I wanted to do another minimalism experiment in 2020, but with writing the Christian minimalism book, finishing up my doctoral degree, the pandemic, and general chaos, it just never happened.
So, I was on the lookout for a new experiment in 2021, to see if I could challenge myself to live with less for a predetermined amount of time. And I came across Wool&'s 100 Day Dress Challenge. Basically, during this challenge, you wear one of their wool dresses for 100 days in a row, for at least 8 hours a day. (At the end of the 100 days, you get a gift card to put toward another dress, but that's not my reason for doing it– keep reading for why!)
I knew that I had found my next minimalism experiment. I will be wearing the same dress, every day, for 100 days in a row. I started on Sunday, January 3rd, and the last day of the experiment will be Tuesday, April 13th.
Why wear the same thing for 100 days??
This challenge may sound extreme. I recently FaceTimed with my parents and told them that I was going to do this challenge. Immediately, a million questions and incredulity poured from their mouths. Their reactions are a good barometer for most of society– wearing something for 100 days in a row sounds crazy to most people in the United States, and probably some other countries as well.
But many successful people have worn the same thing every day, including Steve Jobs and Albert Einstein. Decision fatigue is real. Every day, we are bombarded with decisions to make. Having one less decision about what to wear leaves us more headspace and energy to allocate towards decisions that are most important.
In addition, wearing and consuming less clothes means less laundry/clothes maintenance, less impact on the environment, more time, energy, and financial resources to use wisely and generously, and more focus on what matters most.
When Jesus sent out the twelve disciples out to spread the Good News, he gave them these instructions:
As you go, proclaim the good news, "The kingdom of heaven has come near." Cure the sick, raise the dead, cleanse the lepers, cast out demons. You received without payment; give without payment. Take no gold, or silver, or copper in your belts, no bag for your journey, or two tunics, or sandals, or a staff; for laborers deserve their food.

Matthew 10:7-10
Jesus wanted the disciples to travel simply in order to focus on what matters most– proclaiming the Good News and ministering in Jesus' name.
One of the reasons I have done minimalism experiments in the past is because I was addicted to online shopping; mostly clothes. I was focused on constantly buying and obtaining more rather than on what is most important. Wearing something for 100 days seems like the perfect short-term experimental way to continue my Christian minimalism journey by living with less and continuing to focus on what matters most– our Triune God, and loving and serving others in Jesus' name.
Clothing Ourselves with Christ
The truth is, we often think we need more stuff when in reality we truly don't.
The realization that you need way less than you think to be happy will change your life in the most amazing ways.

Courtney Carver, Project 333: The Minimalist Fashion Challenge That Proves Less Really is So Much More, pg. 94
Living with less can really change our lives for the better. Less stuff, less time commitments, less busy-ness actually means more– more time, more energy, more resources to focus on God and what is actually important.
As many of you as were baptized into Christ have clothed yourselves with Christ.

Galatians 3:27
During these 100 days of wearing the same dress, I plan on taking the time and energy, and resources I've saved and put them into what really matters. I will strive to "clothe myself with Christ," rather than focusing so much on what I physically clothe myself with.
What minimalism experiment could God be calling you to try in 2021?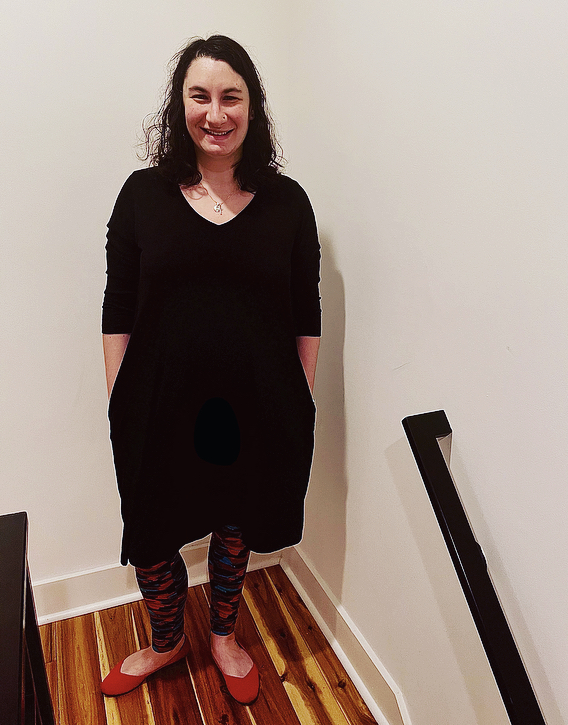 Did you like this post? Check out the Christian Minimalism book!